Precise Cutting

At Peifer Waterjet Cutting, we utilize an abrasive waterjet cutting system to provide precise and efficient cutting of metal and non-metallic materials. We can cut large components, small precision parts and prototypes with exceptional edge quality within a +/- 0.005 in. accuracy.
Environmentally Friendly

Abrasive waterjet cutting is environmentally friendly. It uses garnet as an abrasive; no noxious gases or liquids are used. The water used for cutting is filtered and reused. Unlike laser cutting, waterjet cutting does not use heat, so there is no thermal distortion or degradation of materials. It also requires no special tooling or time-consuming setup, so turnaround times are faster.
AutoCAD Precision

We utilize AutoCAD based data (.dwg & .dxf) to generate cutting paths, but we can accept other file formats as well as sketches, prints, CAD data and samle parts. With our CNC programmable system, we can maximize material usage with part interspacing and nesting.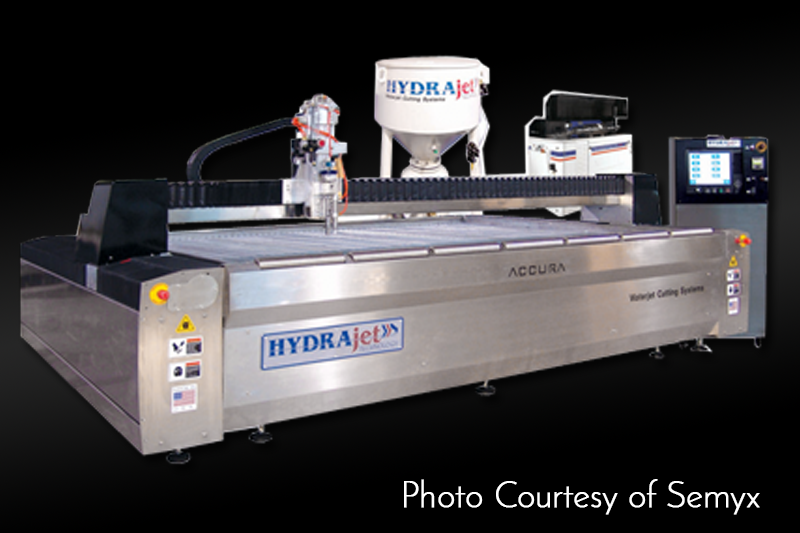 Waterjet Cutting Specifications

3 axis waterjet
83″ X 125″ table (76″ X 118″ cutting area)
6″ maximum thickness
Standard tolerance +/- 0.030″; tolerances of +/- 0.005″ can be provided
5,000 lbs max. weight
No heat affected zones
CNC Waterjet Cutting of virtually all metallic and non-metallic materials
Acrylic
Aluminum
Brass
Bronze
Cast Iron
Ceramics
Composites
Copper
Cork
Exotic Alloys
Foam
Gaskets
Glass
Granite
Graphite
Iron
Limestone
Linoleum
Marble
Neoprene
Nylon
Pavers
Plastic
Plexiglass
Porcelain
PVC
Rubber
Silicon Carbide
Solid Surface
Stainless Steel
Steel
Stone
Tile
Titanium
Wood